These crispy crunchy baked zucchini fries are breaded in a blend of spices and gluten-free chickpea crumbs then secretly baked, even though they taste like they're fried.
Get picky eaters to enjoy their veggies with these zucchini fries. They're covered in a deliciously crunchy and savory "breading" which makes them even more fun to eat.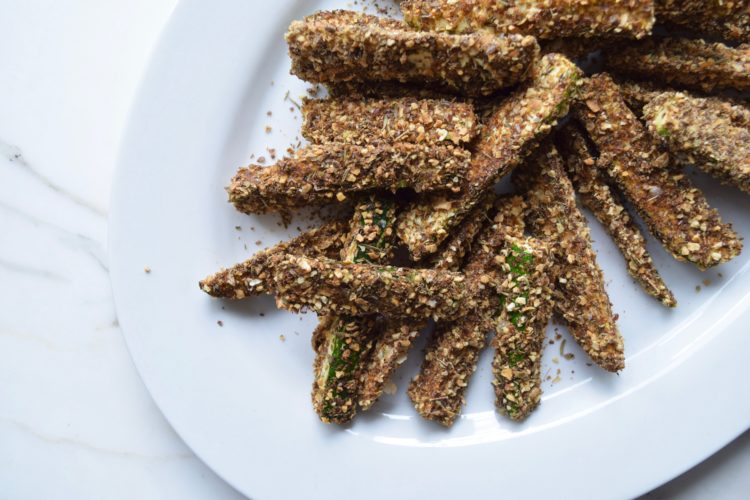 I recently discovered chickpea crumbs – a gluten-free version of bread crumbs made from baked, cracked chickpeas. And I'm obsessed. They make anything you coat them in taste like they are fried – even when you don't actually fry them. They give you that nice crisp crunch and texture. Plus, they add a serious boost of protein and fiber (5g and 4g per 1/8 cup, respectively).
While the crunchy coating is amazing, the zucchini fries add their own benefits, including more potassium and B vitamins. But zucchini also includes pectin and fiber, and both of these heal the gut while helping with blood sugar regulation.
Here's the recipe for Baked Zucchini Fries!
Ingredients:
2 medium zucchini
1 organic, pasture-raised egg
¼ cup + 1 Tbsp. flax seed, milled or crushed
¼ cup + 1 Tbsp. chickpea crumbs
1 tsp. Dried Oregano
1 tsp. Dried basil
1 tsp. Dried thyme
¼. Tsp cayenne pepper (more if you like spice)
¼ tsp. Pink salt
Instructions:
Preheat oven to 425 degrees Fahrenheit, and line a baking sheet with parchment paper. Set aside.
Cut the stem and end off the zucchini, then slice in half crosswise, so you're left with two pieces about 3-4 inches long each. Slice each of those halves into 8 "fry-like" sticks.
Crack the egg into a bowl and whisk with a fork. Set aside.
In another bowl, combine the dry ingredients: flax seed, chickpea crumbs, spices, and salt, and mix well until evenly combined.
Dip each zucchini stick into the egg, strain excess, and the place it in the bowl with the dry mixture, and coat all sides evenly, then lay flat on the parchment lined baking sheet. Repeat with all remaining zucchini.
Bake in the oven for 20 minutes.
Remove and serve immediately, as this tastes best hot.
---
About the Author: Maria Marlowe is an Integrative Nutrition Health Coach who has helped thousands of people improve their health by optimizing their diet. She has created meal plans and programs to help you lose weight, clear up acne, and spend less time in the kitchen yet still eat healthy.
She has been featured in Vogue,The New York Times,NBC,Well + Good, and more. Her first book,The Real Food Grocery Guide, will teach you how to eat healthy without going broke.
Check out her site,www.mariamarlowe.com, or follow her onInstagram @MariaMarlowe andFacebook for more healthy recipes.
---